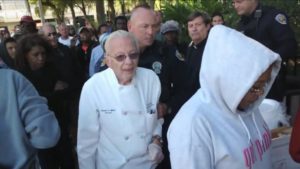 FORT LAUDERDALE, Fla. — A judge in Florida suspended Fort Lauderdale's ban on feeding the homeless Tuesday, calling for mediation on the issue. A city ordinance passed October 21 made it a crime to feed the homeless in public, carrying a possible penalty of jail time plus a $500 fine. As members of the public prepare for court appearances throughout the month of December, many of them continue to serve food in spite of what they say is an unjust law.
The ordinance, now suspended for 30 days, said people cannot be fed in public throughout the city unless bathroom facilities, such as portable toilets, are also made available, but the ordinance does not stipulate who should provide those facilities. And although Mayor Jack Seiler says the ordinance is designed to help the homeless by mandating on-site bathroom facilities wherever food is served, volunteer and advocacy groups argue the ordinance is an attack on the homeless, rather than a solution to the conditions which brought them to Stranahan Park.
Fred Morrison, professor of law at the University of Minnesota, said in a December 1 interview that public parks are open for free speech – including symbolic speech – which he said is "certainly a part of free speech." On the other hand, he said the city can make what are called 'reasonable time, place and manner' restrictions on it.
"So they could designate parts of the park as 'no eating,'" he said. "And certainly if the regulation is intended to suppress a viewpoint, that would appear to be contrary to the First Amendment."
Whether the regulations are being used to suppress free speech is a matter that will be decided by courts.
Fort Lauderdale is not the only city potentially facing homeless feeding restrictions. On November 3, the Associated Press reported that more than 30 cities across the United States have tried to introduce laws similar to Fort Lauderdale's in the past two years, quoting a statistic from the National Coalition for the Homeless. Members of the Richmond, Va. chapter of Food Not Bombs, a food sharing group with anti-war messages, fear their Monroe Park location in the city could be next in line to face restrictions similar to those imposed on Fort Lauderdale, affecting Stranahan Park.
Erika, a Richmond Food Not Bombs activist who declined to give her last name, said she and her group heard about the November 7 arrests of South Florida Food Not Bombs activists, but expressed no surprise.
"We have a history of always getting arrested for this," she said. "But in fact, lately, it's been kind of quiet, until now."
Erika and Vernell Gaines, another member of the group, said they are concerned about a proposal by Monroe Park Conservancy to privatize control of the park after the city leased it to the conservancy for 30 years at a dollar per year. In a blog post, Richmond Food Not Bombs member Mo Karnage said the plan includes a list of 'acceptable activities' in the park, and those who qualify could then apply for a permit costing $35 per event.
"Every Sunday, we would have to go in advance and buy this thing," Erika said, "which is just ridiculous considering we don't make any money. If anything, the people involved have put their own money into things … so it's crazy that they would want to charge us to provide a free service."
Micah Harris is a Fort Lauderdale volunteer, and Vice President of the Peanut Butter and Jelly Project, which provides meals to the homeless. In a November 18 interview, Harris said he and his organization have helped 41 people get off the streets since February. One of the biggest problems he said his organization has with the ordinance is its portrayal by city officials as a legitimate response to health hazards.
"They're hiding behind the news as being a health issue, when in reality they don't want to see homeless people," Harris said.
Harris said he thinks if public defecation is the main focus of the ban, as he said the city suggests that it is, then the city should be responsible for providing more public restrooms, not volunteer organizations feeding the poor.
"If public defecation is an issue, the city should be required to provide more adequate restrooms for people to use, whether it's porta-potties, whether it's building other facilities or not."
Harris said homeless people frequent Stranahan park because the space is located 300 yards from a prominent public transportation hub, and 100 feet from the public library.
"When you have shelter, Internet use, bathroom use, and a library which can't be denied to anybody, and you have a hub of public transportation, then unless by chance they move all of that somewhere else, they're not going to get rid of what the 'eyesore' is," he said.
Seiler has since reiterated the city's position in a November 26 interview with WPLF Local 10, in which he said the ordinance is meant to help the homeless, and in a December 2 interview with the Sun Sentinel, in which he said he would prefer to enforce municipal ordinances, in response to the Tuesday suspension of the public feeding ban.
"The whole goal has been for the city of Fort Lauderdale to assist the homeless here in Fort Lauderdale, to provide the appropriate resources, facilities and locations for them to get the aid they need," Seiler said.
Harris called the treatment of Fort Lauderdale homeless "sad."
"The mayor goes on TV and acts as though there are all these places where they can go, and there's not," he said. "There really isn't."
Arnold Abbott, the 90-year-old chef and World War II veteran whose November 3 citation put international focus on the Fort Lauderdale ordinance, is the ideal face of homeless feeding advocacy, according to Harris. News of Abbott's citation, and subsequent citations – now up to four tickets, as of December 1 – went viral when a link to a November 3 WPLG and CNN report was voted to the front page of reddit, a news aggregation website.
Abbott and his group, Love Thy Neighbor, have been feeding the homeless for 23 years, defying past bans. Harris said Abbott advocates feeding the homeless for the right reasons, adding that Abbott is both genuine and authentic.
"You got your martyr," Harris said. "What better face could you have, to fight this, than a 90-year-old war veteran that fought for civil rights, who started a nonprofit organization in the name of his deceased wife? … That's the face you need."
On the day of Abbott's initial citation, WPLG and CNN quoted his description of the police encounter: "One of the police officers came over and said, 'Drop that plate right now,' as if I was carrying a weapon," Abbott said.
Aaron Jackson, president of Planting Peace, a humanitarian aid project, said in a November 19 interview that Fort Lauderdale police process citizens on location, gathering the same information about them as if they were brought into the station – including mobile fingerprinting – and then they let people go.
Jackson, who himself was cited November 10 for giving away free pizza in front of city hall, said although he was processed, he does not feel like a criminal.
He said the city hall demonstration was symbolic of community groups' refusals to back down. He said during the five years he spent as director of an area homeless shelter, he had seen the city pass laws against panhandling at medians, and observed Broward County police officers shifting the homeless population between cities.
"There's veterans, there's people with mental health, schizophrenia – things of this nature – all through the streets of Broward County and Fort Lauderdale," he said. "And to outlaw our ability to bring help to them is just absolutely ridiculous."
Jackson said Seiler's plan for the homeless to go where the ordinance permits them to be does not take mental illness into account.
"When I was director of the homeless shelter, we had [schizophrenic] people who were afraid to go inside the homeless shelter. There was too much paranoia," he said. "They had to go out, and we had to bring services directly to them."
Abbott sued the city and won on religious grounds in 1999, when a similar ordinance was passed. Abbott and others say it is their religious duty to care for the destitute.
"We will continue as long as there is breath in my body," Abbott told the Sun Sentinel on November 9.
Harris said members of his organization, including his wife, considered facing arrest, following the November 7 arrests of three members of South Florida Food Not Bombs, but he said they soon backed out.
"We're not going to put ourselves in a situation where our son sees either one of us put in handcuffs and taken away," Harris said. "I would never do that to him. That's traumatic. It's counterproductive."
Harris described his interactions with Fort Lauderdale police as uniquely positive, however. He said he considers them part of the community, now as well as before the ordinance. He said before the ordinance went into effect, the police came by Stranahan Park and he shared his water with them. He said they did not bother anyone and have been cordial, even while issuing citations.
"It's not a cop thing," Harris said. "We've never been the type to fight the police or fight the system like that."
Jackson said that the police have been "kind," as they carry out their duties and citations. He said they have not been rude and they are only doing their jobs. Jackson said he thinks even the police believe prohibiting charity is "ridiculous," which is why they mainly issue citations and let people go.
"And in this instance, they let you go, oddly enough – which is kind of funny – and it goes to show just how ridiculous this is if you really think about it," Jackson said. "Once they issue this citation, they let you go. They let you continue feeding. What other law could you break– If I was robbing a store, and the police came in and stopped me and arrested me, would they then just let me go and continue to rob the store? No."
Jackson said he observed that the police, after writing out citations, stand around the area but do not say anything and stay out of the way until the feeding is over.
Morrison said the police are measuring to see if judges decide the ordinance is valid before proceeding with duty. He said waiting to do a more thorough enforcement of the ordinance until after the first court cases have been heard seems to him like a reasonable act of police discretion.
"They don't have to give you a ticket if you're driving 31 in a 30-mile-an-hour zone, but they could," he said. "And they don't have to give these people a ticket. They are, in a sense, already on notice, and the courts are going to have to decide this."
Harris said he was not present during the initial Food Not Bombs arrests, but said those members arrested November 7 took over a pavilion at the center of the park for which a permit must first be obtained before holding public events. He said they did so with the intention of being arrested and he did not like to feed into what he perceived as the media's inclination to report arrests when more people were being cited than arrested.
"They wanted to get arrested," Harris said. "They were looking for it."
South Florida Food Not Bombs member Haylee Becker said in a December 1 interview that she did not want to get arrested and would not describe the police at that time as 'cordial.'
"At least they weren't while they were arresting them," Becker said, referring to the three activists arrested in Stranahan Park as she stood nearby. "They were calm. They were doing their job."
A November 26 report by WPLG said there was no apparent police presence at Abbott's day-before-Thanksgiving public feeding on the beach, however plainclothes officers were in attendance, and issued citations to offenders by mail.
The WPLG report did not clarify how the Fort Lauderdale Police Department knows which individuals to cite, and the department has not responded to numerous, repeated inquiries for more detail.
Becker said that although South Florida Food Not Bombs has given out food for two weeks without police intervention, police officers shoot video and photograph her group from various directions.
"Every Friday we've been sharing food since 2006 in that park around that time," Becker said. "Our intention was not to get arrested. Our intention was to share food every Friday and unfortunately, there was a law."
Morrison said the difference between the South Florida Food Not Bombs encounter with police and the Planting Peace encounter is only in the tone of the confrontation, and has no bearing on the law or the legality of the activities for which they were issued citations.
"This is just probably the tone and tenor of the confrontation," he said. "It doesn't change the underlying law at all, and it won't change the underlying result, either."
While Fort Lauderdale city officials passed a ban on public feedings, and promoted the ban on a public health platform, Richmond, Va. city officials cite public safety as their motivation for relinquishing control, but not before contributing $6 million dollars to its renovation – before a privately controlled entity takes it over – according to the terms of the lease.
Safety and security are recurring themes of the approved Richmond plan, as introduced by Monroe Park Conservancy President Alice Massie, which proposes the replacement of trees in the park, new lights and the addition of bistro-style cafés and food carts. Of interest to Food Not Bombs and others who feed hundreds of people in the park each week, the plan Massie introduced would require a minimum 75:1 "ratio of non-homeless users to apparently homeless ones" in order to attract more women to the area, the conservancy document states, because "women tend to be more acutely aware of disorder than men, and throng to spaces that seem completely safe."
Gaines said it was clear that Massie wanted support at a March 18 city council hearing when the plan came up for discussion, during which safety – particularly that of Virginia Commonwealth University students – became a point of contention.
"Pretty much they were trying to get people to come up in there and talk like, 'Well, all the people that walk around the park, who are usually there, are an issue,' but we actually got some VCU students to come up there with us and say how they felt about everybody," Gaines said. "They said they don't have a problem with it because everybody minds their own business. There's never problems in the park, really."
The plan also proposes a privately managed, semi-permanent market that would run along the north-south spine of the park, spaces which organizers can rent "with little initial expense." Additionally, the plan, once it moves forward in Fall 2015, is to hire event staff, a maintenance crew, program and event managers, and private security. The security force is the largest planned expenditure during the first year of the published five year plan. The plan states security forces will call upon VCU and Richmond police to enforce new rules.
Finally, although the privately backed conservancy plan acknowledges the existence of homeless feeding programs in Monroe Park, the paragraph concludes: "The homeless presence in Monroe Park poses an impediment to increased park usage."
There are various decisions about ordinances prohibiting aggressive panhandling which causes people to fear for their safety, Morrison said they could be prohibited.
"If it's just someone saying 'I'm hungry and I'm homeless,' then it can't be prohibited," he said.
In both cities, Morrison said the conflict is partly ideological.
"There are people who would like to have parks look like nice gardens," he said. "And there are people who would like to have the parks be public spaces. Both of those dreams are present in our culture."
Streets and parks are places where the Supreme Court has said people have a right to demonstrate, Morrison said. And although giving away food is a protected form of free speech, it can still be limited by regulations, but not totally prevented.
"I think the city could say, 'there will be no food in city parks,' but that has to shut out the picnickers, too," he said, "because you can't take one class of people and say, 'there will be no food for this class in city parks.'"
All media requests to city hall regarding the Monroe Park Conservancy are forwarded to Tamara Jenkins, city recreation coordinator. She declined to answer questions about the conservancy, the terms of their lease, or how the public will be expected to interact with the park through the conservancy.
Richmond Mayor Dwight Jones sits on the executive board, as well as Robert "Bobby" Scott Ukrop, president of Ukrop's Homestyle Foods. Neither Jones nor Massie responded to numerous, repeated requests for comment.
Morrison said the city could require anyone feeding more than 50 people at once to require a permit, for example, because a 'reasonable time and place' argument could be made that it is an unusual use for the park and a permit would be required to make sure there are not too many people in the same space, but he said he does not see indications such a plan is being talked about, at least in Fort Lauderdale.
Food Not Bombs, an international group which maintains a presence in both Richmond and Fort Lauderdale, sets itself apart from other food sharing groups with focused, anti-war messages. The first full sentence on the group's official website is a Martin Luther King, Jr. quote promoting a shift of public funds from the military budget to social programs. Many Food Not Bombs chapters even offer free anti-war literature at their tables.
It was for that reason – not for feeding the homeless – which Keith McHenry, the group's founder, said he was first arrested in San Francisco's Golden Gate Park on August 15, 1988. McHenry is currently based out of Santa Cruz, Calif.
"They said we were making a political statement, and that that was not allowed," McHenry said in a November 4 interview. "They didn't mind that we were feeding the homeless. It was this political statement."
However, an August 17, 1988 Los Angeles Times report quotes Police Lt. Rich Holder as saying the group was "in violation of the Health Code, the Park Code and the Penal Code." The report states McHenry's group was at one time told to dispense food at a nearby church, where required sanitary facilities were available.
"In addition to expressing views, Food Not Bombs is also distributing food," Morrison said. "There may be legitimate reasons to control the distribution of food, like sanitary controls … Another is 'time, place and manner.' You could tell them 'you're not going to do this between midnight and six in the morning.'"
In Orlando, Fla. an ordinance was upheld by a federal appeals court, in which the court decided the city's restrictions on feeding the homeless in public were constitutional. The Orlando Sentinel reported on April 12, 2011 that the U.S. District Court of Appeal for the 11th Circuit in Atlanta found the feeding ordinance did not violate the constitution because it still technically allowed people to feed the homeless in public parks, but limited legal public feedings by requiring a new permit for each feeding, and only allowing a group two permits per park each year.
"The precedents for this are a bunch of cases that come out of the civil rights movement in the 1950s and 1960s, which the U.S. Supreme Court said these are what are called 'public forums' and they are available for the public to express their views."
Like many groups from the civil rights era, documents obtained in 2011 through a Freedom of Information Act request by McHenry show that an informant with the FBI monitored and reported Richmond Food Not Bombs activity.
The documents, under the heading 'Counterterrorism,' show FBI surveillance spanning two years between October 2003 and November 2005, and include a compact disc loaded with images shot during a war protest.
The documents explicitly describe Food Not Bombs planning meetings, items hidden in the homes of certain members, and profiles their various agendas, which included Iraq war protests and protests against state and federal governments, as well as against the activities of Eugene Trani, former president of VCU. The documents also name and describe individuals, vehicles they drove and the political philosophies of various participating parties.
The documents show the case was closed after the investigation failed in 2005 to connect a specific member of the group to vandalism of the General Lee monument at the intersection of Monument and Allen avenues.
Karnage said the investigation took place before she joined the Food Not Bombs program in 2006, and while she says the figures being investigated by the FBI still live in the Richmond area, she does not know who they were.